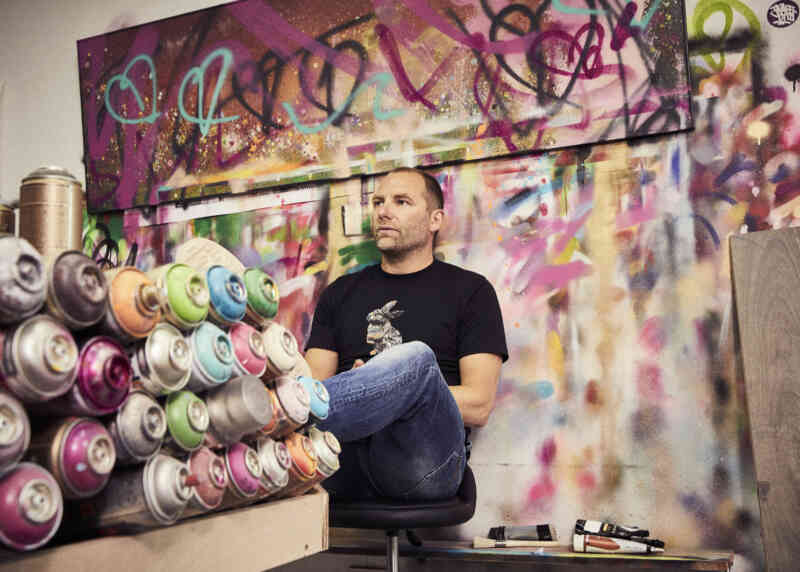 Dan Pearce is a full time mixed media artist based in a South East London. He studied art at his local college on Merseyside which led to a (BA)Hons in Jewellery Design. Post Uni he returned to his original birth place of Australia and setup home in Sydney for the next seven years. It was here he honed his creative skills and fell in love with urban art. He set about mixing modern day influences of Dface, Shepard Fairey with his older art college influences of Warhol and Lichtenstein to carve out his own style, a unique explosion of energy and colour.
Moving to the present day and Dan is rapidly becoming one of the UK's most talked about and collectible artists. Dan's work is collected by everybody from Idris Elba, Boy George, Anthony Joshua and 50 Cent, to will.i.am, Rag N Bone Man and a host of Premiership footballers. He was named "one of the UK's most collectable, emerging artists" by Shortlist and his work employs spray paint, hand painted acrylics, lenticular, neon lights, 3D objects, screen-printing, textured resin, gold leaf and collage, as well as his own photography and street art.
Dan is married with two sons. His studio is local which allows him to juggle his busy life of full time artist and a hands-on Dad. Dan has been exhibiting his artwork since 2013 throughout the UK as well as internationally.
For me, art is fun. I only have one objective, to try and engage the audience for a reaction, good or bad.
I love what I do, you can never take it too seriously, it's not life or death.
At the end of the day, it's just fun.
DAN PEARCE
Artist
LATEST FROM STUDIO – FOLLOW ME ON INSTAGRAM
#DAN_PEARCE_ART